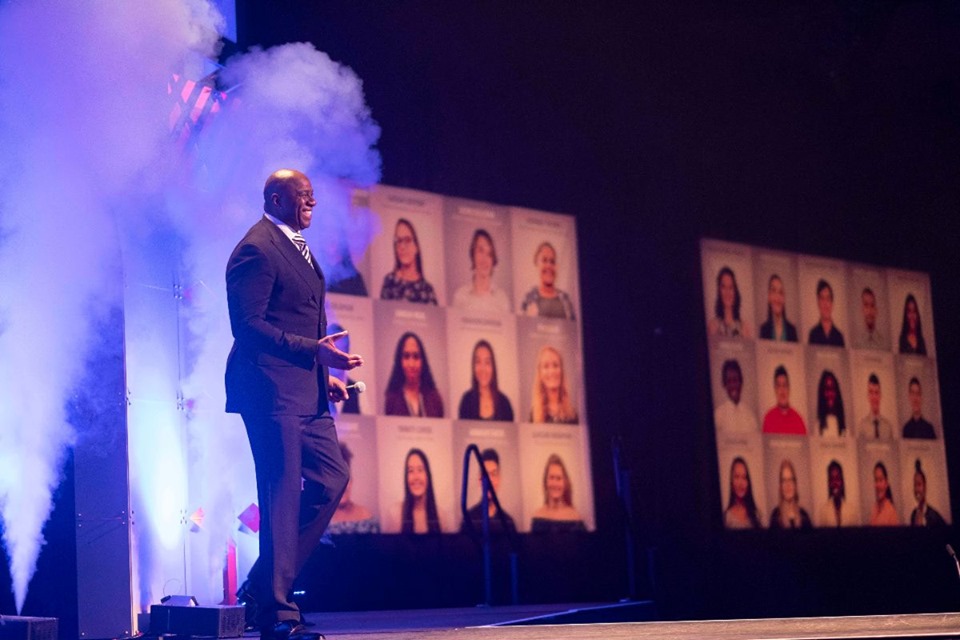 More than 1,300 attendees at the annual Attollo fundraising event in Lancaster, Penn., celebrated a group of 60 high school program scholars for being accepted into colleges across the country. Also highlighting the event, Magic: An Attollo Experience, was a keynote by NBA Hall of Famer, Magic Johnson.
This year's celebratory fundraiser raised $1.5 million benefitting the Attollo program. Founded by the Children Deserve a Chance Foundation, Attollo is a college access/leadership program in Central Pennsylvania that supports youth from underrepresented communities in their pursuit of academic achievement, empowerment and social engagement.
As a token of appreciation to the event sponsors and donors, Attollo partnered with FUSION OF IDEAS to create custom-branded Apple AirPods as gifts. The device included the program's name and logo printed on the case and on the stems of the headsets. The AirPods box is outfitted with a fitted custom device sleeve that has a photo of Magic Johnson.
One event donor shared anonymously, "You [Attollo] always inspire students to push beyond their comfort zones and do more than they thought possible. I am not quick to try new technology, but when I received these AirPods, I decided to push myself beyond my comfort zone and try them. My grandchildren were so impressed when I came walking in with my AirPods! I can listen to my audiobooks and my old favorite songs."