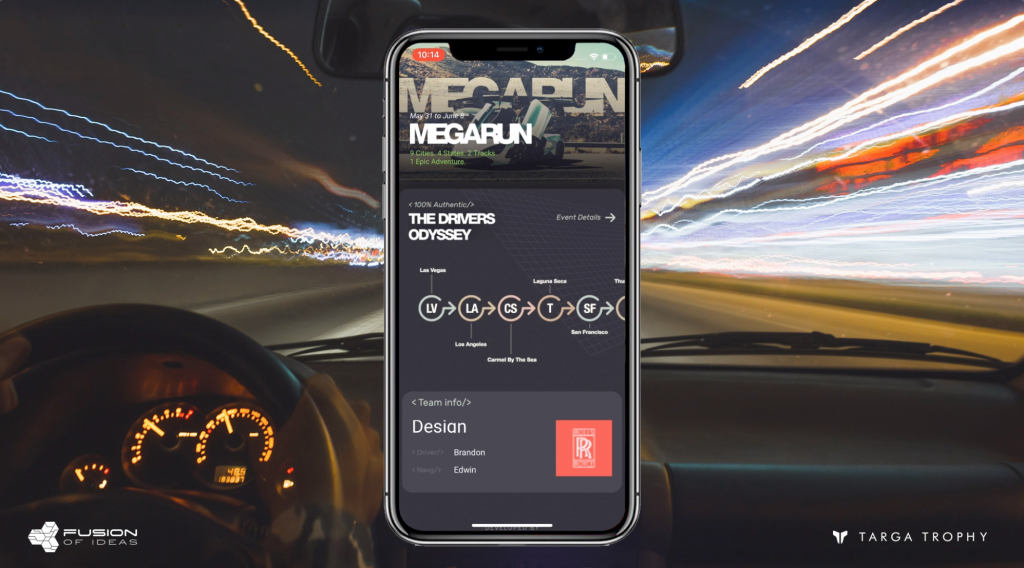 Known as the pinnacle driving lifestyle adventure, MEGARUN is an eight-day exclusive road rally adventure along the West Coast.
For the third year, FUSION OF IDEAS has developed the event's exclusive app that is used by the event drivers. The app allows drivers to get real-time updates, view the daily schedule with route information and checkpoints, and see the locations of other drivers through an interactive map.
Targa Trophies first partnered with the FUSION OF IDEAS in 2014 with the goal to move away from paper road maps and schedules to a fully digital experience. This ultimately changed the way participants interacted with the event.
Each year, the app is updated with a new look and new features that are tailored to the event.
MEGARUN's nine-city tour kicks off Friday, May 31, in Las Vegas and finishes on Saturday, June 8, in Seattle. The MEGARUN formula circles around bringing together the best cars, people, driving roads and adventure destinations into an event experience.
Get a sneak peek of this year's exclusive app in the video below, and follow along on the tour through Instagram.