By Jennifer Fujimori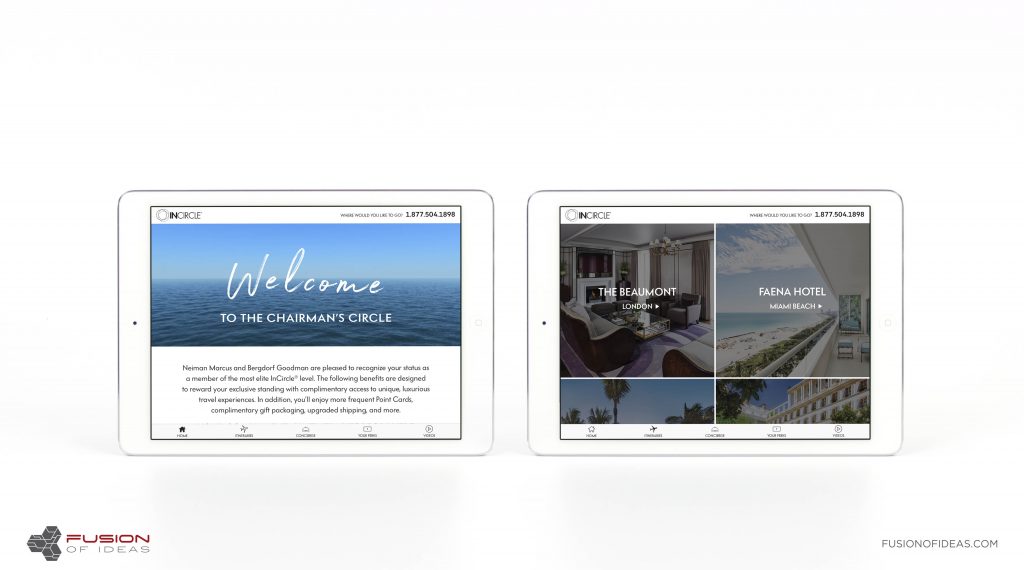 To many people, Neiman Marcus and other department stores might warrant the occasional stop when wandering the mall or looking for something in particular. But for an elite circle of customers dubbed the "Chairman's Circle," shopping at Neiman Marcus is part of a lifestyle – and one that comes with perks. Members of the Chairman's Circle (the highest loyalty level under the InCircle Neiman Marcus reward program) must reach a designated annual spend using a private label credit card. Once they've met those requirements, customers unlock a treasure trove of exclusive benefits, including in-store dining, salon services, access to tickets for in-demand events, hard-to-get restaurant reservations, and premier getaways.
It was the last item on that list that Neiman Marcus sought to optimize with Fusion's help. Working with the team at Neiman Marcus, our app developers created a completely custom mobile app for Chairman's Circle members. When a user opens the application on an iPad (customized of course!), a message is displayed describing the purpose of the app, which is to detail the amenities available at Chairman's Circle level. The app then shifts its focus to one particularly notable amenity: a complimentary trip to one of eight destinations around the world. Using the navigation at the bottom of the screen, users can tap an icon labeled "Itineraries." This leads to a selection of clickable photographs with destination names, which users can click to view the details of the excursion and corresponding hotel.
To present this as a gift from Neiman Marcus to Chairman's Circle members, we created a fully customized package including an iPad wrapped in matte silver Stealth Armor, a sleeve to house the iPad box, and a high-quality box with magnetic closure encasing the entire bundle. It's the best kind of gift: one that contains another gift inside.
We have worked with high-end retail clients before and we dove into this project headfirst, gathering information from the client until we felt confident enough to build the app they were looking for. "Neiman Marcus knew they wanted to gift their Chairman's Circle members with a free trip, but they were looking for a truly memorable way to package that information," said Hollie Go, App Development Project Manager. "Instead of sending a letter or an email, this app is an interactive way for recipients to see full color photos and details about each destination." With Fusion's custom branding, packaging, and mobile app services, Neiman Marcus found the level of prestige they were looking for in a gift for their most valued customers.