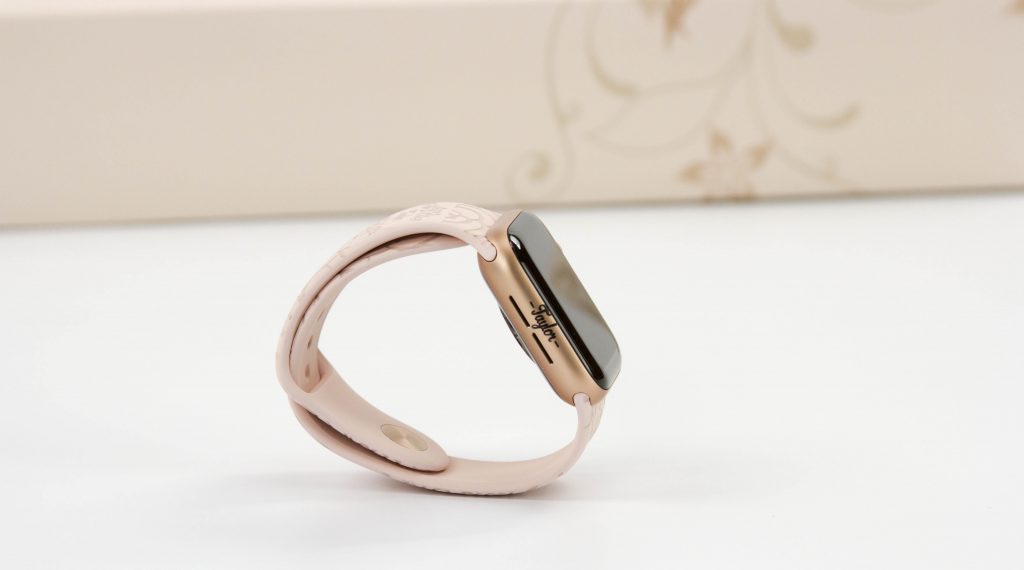 As soon as we got our hands on the new Apple Watch Series 4, our design team went to work to find the best points of customization and created the WORLD'S FIRST customized Apple Watch Series 4.
Here's what we did:
The specs. We started the process by getting the exact specs of the device, down to the millimeter. Precise measurements are crucial as we only get one chance to print directly on a device or accessory.

The mockup. Once measurements are logged, our design team went to work creating a mockup of the design, painting a picture of what a finished custom device will look like. A final proof is sent to the client for approval before production begins.
The production process

. Depending on the device, we may build a custom housing to hold the device while it is in the printer. Our patent-pending color and laser customization process allows us to permanently brand devices with high-quality, full-color graphics without voiding the device's warranty.
The packaging.

We extend the brand experience with custom packaging solutions including sleeves, boxes, gift wrap, shrink wrap and one-of-a-kind packaging experiences.
We are thrilled about the new Apple Watch and the results of the customization. The most significant added feature on Apple Watch Series 4 is that it is also a health-tracking powerhouse. Game-changing features such as fall detection and emergency SOS open the device to new audiences: fitness and outdoor enthusiasts, senior care providers and healthcare workers.
For us at FUSION OF IDEAS, deciding whether or not this new wearable gadget is worth purchasing is a no-brainer. And with the holiday season around the corner, this is the perfect gift for your valued employees or customers. The only question remaining: how will you customize the Apple Watch to fit your company brand and culture?
Check out how we transformed Apple Watch Series 4, from ordinary to extraordinary: