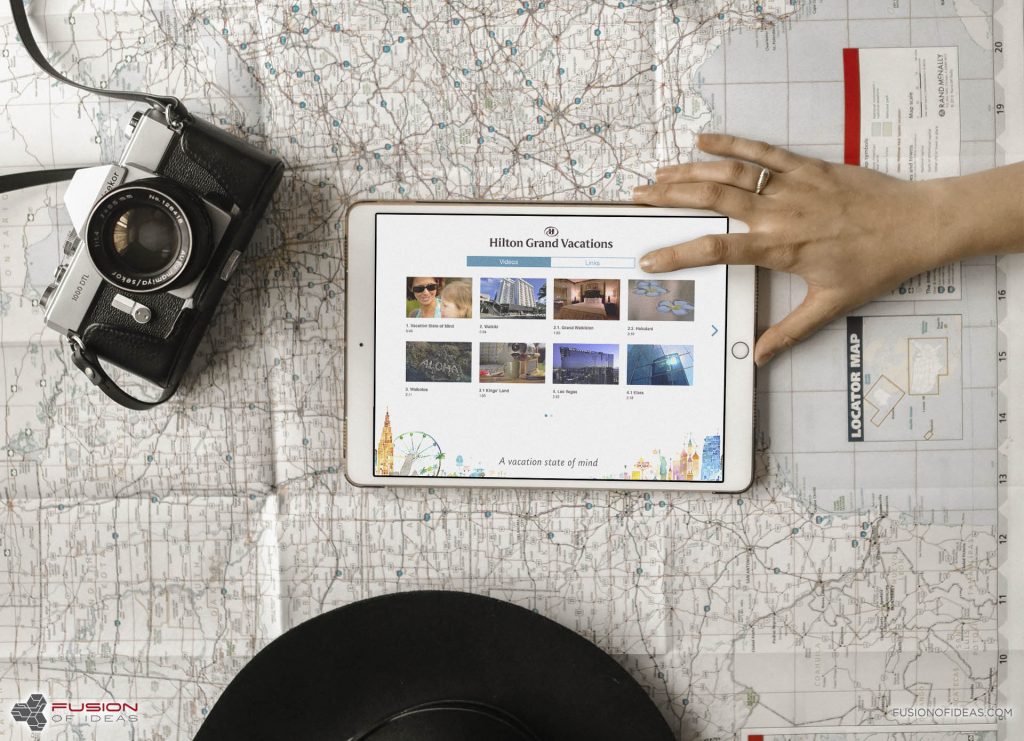 As summer winds down, many of us are reminiscing about sunny vacations in idyllic destinations. One of our favorite app development stories comes from the Grand Vacations division of Hilton Worldwide, a household name in hotels and resorts. When we first connected with Hilton, they were seeking to create a piece of technology that was both a gift to their timeshare owners, as well as a continuous branding vehicle for all of the Hilton Grand Vacations offerings. The Fusion of Ideas development team worked with Hilton to build a custom iOS application showcasing videos from various resort locations, links to other Hilton programs, and information about the timeshares. The finished app was loaded onto custom iPads featuring Hilton Grand Vacations branding on the lock and home screens, Smart Covers, sleeves, and the etch on the iPad itself.
Our second encounter with the Hilton organization was a project for their newer brand of affordable hotels, Tru by Hilton. The goal was to create an aid to hotel General Managers, who could use the app to upload audit reports and view videos, images and PDFs pertaining to their specific location. Our DCS solution turned out to be the ideal strategy for this app – the client was provided with an admin portal, where they can update and adjust the content being displayed to the GMs. As with the Grand Vacations project, the team at Fusion loaded the app onto iPads with custom print and sleeves.
Customer satisfaction and a good employee experience are two things we can relate to, and we were lucky to have the opportunity to work with Hilton brands on their efforts in both areas. This combination of Fusion solutions – custom apps with custom branding – can be a fitting complement to the polish and professionalism of the hospitality or any customer facing industry.
SaveSave