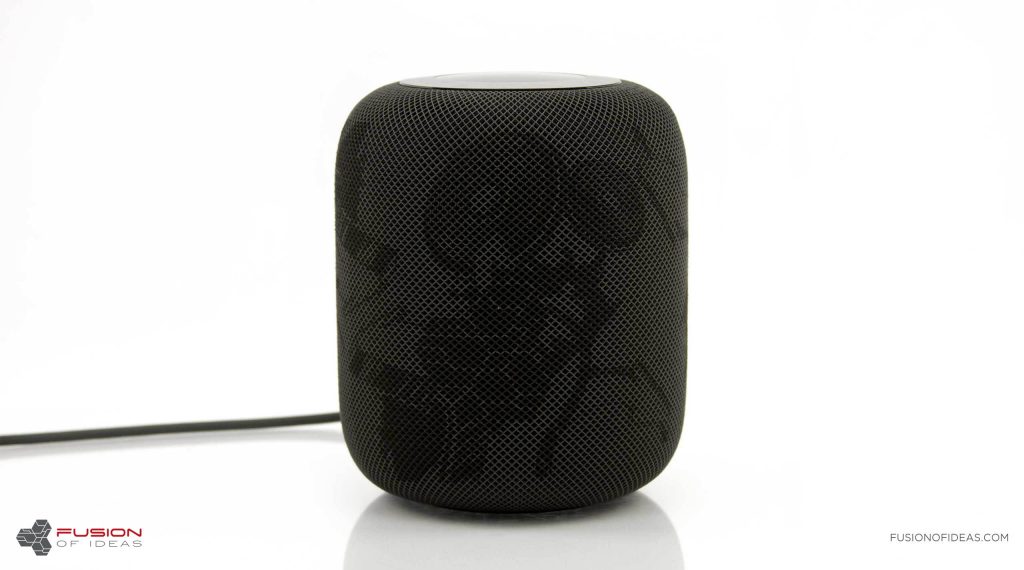 Since the release of the new Apple HomePod our Fusion of Ideas tech expert and Business Development Manager, Jacob Sarabia, has been busy testing and utilizing the device since the moment we got it. Here is what he's saying about it:  
What do you like and dislike about  the design?
Apple has done it again: blending art and technology to create the new HomePod. I personally appreciate the attention to detail on how seamless the fabric mesh covers the internal components. Every detail down to the power cable, which is carefully woven together, showcases the quality of Apple products. Additionally, there are no physical buttons that might distract you from the overall design. Apple accomplished this by placing a touch screen display at the top of the speaker. I had a hard time trying to find things I did not like about the HomePod design. When comparing it to the other speakers on the market, I still chose the HomePod.
We hear that you have to keep the cable installed into the HomePod. Have you found this to be a problem?
Initially, I did question Apple's decision to make the power cable non-removable when comparing it to other speakers on the market. Technically speaking, it can be removed with some force, which I do not recommend trying (this leads me to believe it's reserved for servicing the device).  If the HomePod is being used the way Apple intended it to be used, then there really is no reason for the cabled to be removed, so overall, this has not been an issue for me.
What's the audio quality like? How does the HomePod compare to similar smart speakers?
Music has always been in Apple's DNA, and they certainly proved this with the HomePod. They have upset the marketplace by offering an unparalleled audio listening experience that is like no other competing smart speaker. The audio notes are rich and clear with little to no distortion, even at a 100% volume level. Most of the other speakers on the market focus on AI technology first and speaker quality second.
Is it easy to use Siri on HomePod? Have you encountered any issues?
Siri is just as easy to use on the HomePod as on my current iOS devices. Of course, there are some limitations, but knowing that Siri is available practically everywhere in my home/office is great. One of the down sides to utilizing Siri on the HomePod is that it can't distinguish my voice from someone else's. If I allow full access through the initial set up process, anyone can ask Siri to read back my text messages, notifications, and so on. Also, I can't set up multiple timers, which would be useful while listening to music and cooking. I really see the HomePod being used primarily for music and home automation tasks.
How would the HomePod be used in a business?
For now, the HomePod would be perfect inside of a conference room for taking calls – you can't beat the amazing sound quality it provides. As Siri progresses, I can imagine a day when developers can integrate Siri into their web/mobile applications to run tasks or provide real-time information by simply asking a question. The HomePod would be the perfect gift for someone who is looking for not just a "smart speaker," but also better sound quality at a reasonable price point. And it could be a great gift for employees or clients.
Are the HomePods customizable? What areas can be customized?
You know us – at Fusion of Ideas, we always push the limits to provide the best customized out-of-box experience. Every new product release poses new challenges for our team. Different shapes, sizes, and raw materials can all affect our capabilities. The services we currently offer for the HomePod include: custom packaging, laser etching, and our customizable film, Stealth Armor. Stay tuned for more exciting HomePod capabilities as we continue to go through the research and development process.