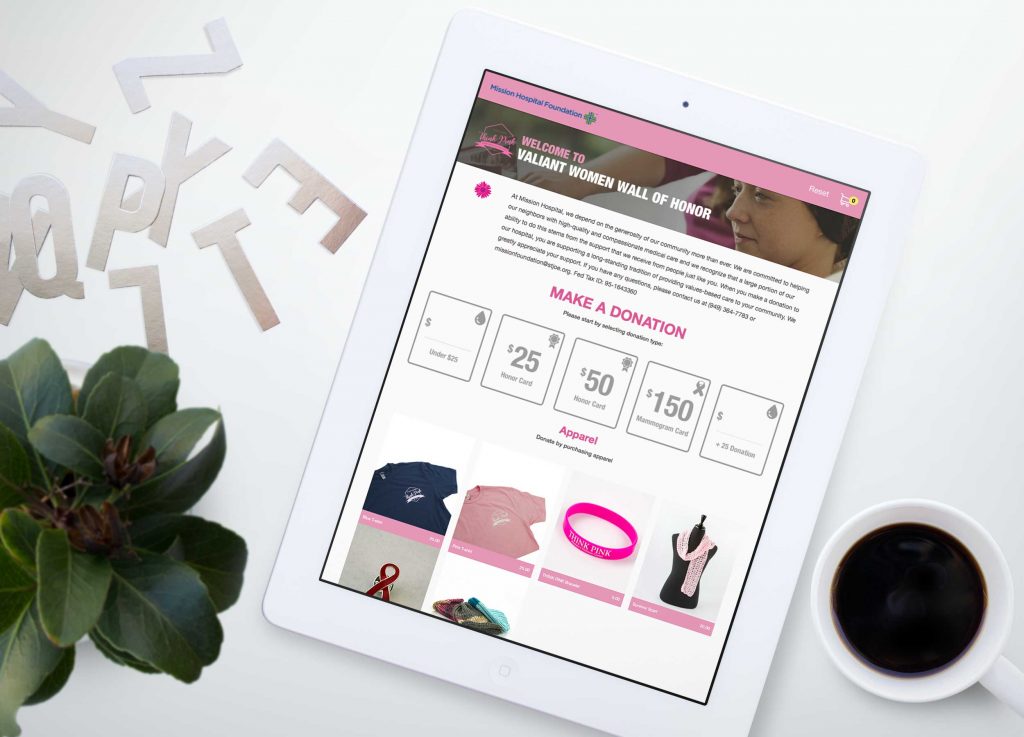 For the third consecutive year, we are honored to contribute to the THINK PINK Wall of Honor, presented by Valiant Women of Mission Hospital. Located at The Shops at Mission Viejo, the month-long event during National Breast Cancer Awareness Month encourages community members to honor breast cancer patients and survivors through a beautiful collection of tributes which are displayed on the wall.
In 2016, Valiant Women was looking to update its board of handwritten messages to appeal to the more tech-focused millennial generation. The solution? A four-sided 10 ft. electronic kiosk with LCD screens to display the tribute messages. The kiosk was made a reality by the organization's generous donors, but the software needed to bring the digital tribute wall to life was missing. That's where FUSION OF IDEAS came into the picture.
Our app development team went to work to create a custom portal that allows the Valiant Women team to manage, arrange, delete and add content to the four screens of the kiosk. These screens – one for event merchandise, one showing sponsor spotlights, and two screens dedicated to survivor tributes – can be accessed by the client through the portal from any computer, tablet, laptop or cellular device. The digital kiosk, updated annually by FUSION, has been in use by Valiant Women for the past three years, and it has been a huge success!
"This is our 16th annual Wall of Honor, and every year we strive to engage and educate more community members," shared Mary Miyamoto, Chair of the Valiant Women THINK PINK Breast Health Wall of Honor. "Our message to the community is about the importance of early detection. Our digital wall encourages engagement and inspires people to donate, honor loved ones by posting messages, and purchase merchandise. It's eye-catching and super easy to use."  
FUSION OF IDEAS is proud to be a partner and supporter of this amazing cause. The THINK PINK Wall of Honor will be at The Shops at Mission Viejo throughout the month of October.