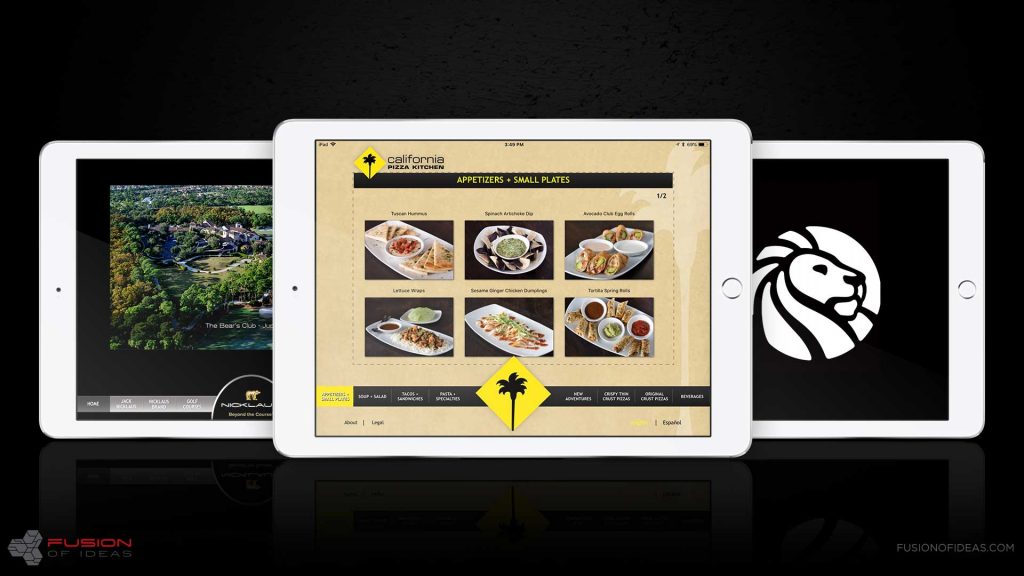 A question we get a lot at Fusion: "You're a well known customization company – what made you get into app development?". We decided to take the time to answer that question and provide some history of how Fusion's app development service came to be.  
"As with all truly successful innovative companies, Fusion is always looking out for the needs of our customers," said Russ Taylor, CEO of Fusion of Ideas.  "We stay on top of technology, development, and our product offering so that we're not only keeping up with trends, but offering truly custom solutions based on what our customers need.  Our app development service was born out of repeated request from our customers. The iPhone App Store opened in July 2008, and soon after that, our customers began inquiring about custom apps in addition to hardware customization services. We decided that if we were going to do this, we were going to do it right, so we set out to create create applications that reflected the same high-level reputation of our customization services."
That's when Taylor brought on Tyler Harmor, someone with extensive development and leadership experience, as CTO of Fusion of Ideas. Harmor was given the task of creating a team of developers and designers with the ability to understand the client's vision, map it out in detailed a statement of work, and then produce each custom application on time according to their specific deadlines.  
Harmor was asked to do all this while adhering to the Fusion of Ideas commitment to being a one-stop-shop for all service offerings, which means all of our work takes place under one roof in Lake Forest, CA.  At that time, many companies were outsourcing their app development overseas. But clients were becoming increasingly frustrated with the disconnect, language barriers, and long waits for communication and updates.  Hiring all of our iOSdevelopers to work in one location would provide a high level of customer service in which clients could easily communicate directly with their application's developers. Comprehensive details could be communicated with minimal miscommunications, and any questions or requests for app updates could be answered in minutes, rather than hours.  
So Harmor hired a team of the best developers in Southern California, and app development quickly became one of Fusion's cornerstone product offerings.
"From the moment we let our clients know that we were offering application development, we were inundated with several exciting projects," says Taylor.  "Our clients had experienced a high level of quality with our customization projects, and knew that we would produce the same high-quality work when it came to app development.  We truly value our clients and strive to give them our absolute best, so the decision to hire Fusion to develop applications was an easy decision for many of them."
Less than two years after mobile applications were introduced to the world on a consumer and business level, Fusion had entered the app development industry.  Fusion's first three clients were the New York Public Library, Jack Nicklaus, and California Pizza Kitchen, in that order.
"We came from not-so humble app development beginnings," said Tyler Harmor, CTO of Fusion of Ideas. "We didn't have to start small and build a reputation from scratch.  Because of the high level of quality in our customization projects, Fusion was poised for success when we began developing apps for some big names. And we were ready to show them what we could do."
The first Fusion of Ideas app development client was New York Public Library (NYPL). NYPLneeded an internal application for their librarians that would serve as a liaison between their database of library assets. NYPL had worked with Fusion of Ideas on some other projects, and knew that Fusion would produce a top-notch product for them.
Integrating the outdated system into a custom application presented many technical challenges and required a significant amount of work for Fusion, but the end result was an app that successfully tied into the NYPL database and enabled librarians to search for publications and other assets. With the release of the new app, Fusion helped the NYPL step into the mobile age.
Following the NYPL app, in 2011, Fusion created an application for Jack Nicklaus, who was actively looking for investors for new golf course projects. They wanted to create a custom application that would loaded onto iPads and given as a gift to potential investors. The app would invite the recipients to learn about the business and potential investment opportunities.  Fusion created an application that housed information about the golf course, videos, brochures, and other marketing collateral. The "wow factor" of the project brought them back to Fusion for additional applications and services over the years.
California Pizza Kitchen (CPK) wanted to create an easy ordering app that would be used to test a Spanish language menu in some of its locations.  The application housed an ordering portal and detailed menu information, and was utilized in several CPK's across the nation.
"These three initial app development clients, though several years ago, were early adopters, using apps at a time when other businesses didn't even have an inkling of the importance of mobile technology," said Harmor.  "Looking at our app development clients in 2018 – they vary quite a bit in shape and size. We have clients who are doing smaller projects, such as Dynamic Content Solution (DCS) applications, which includes a custom interface to house specific information like videos, apps, presentation and marketing materials, PDFs, etc.  We also have clients who are creating huge framework applications that run their business. We do it all, and we love the variety and the challenges of creating technology solutions for these companies."
SaveSave