By Jennifer Fujimori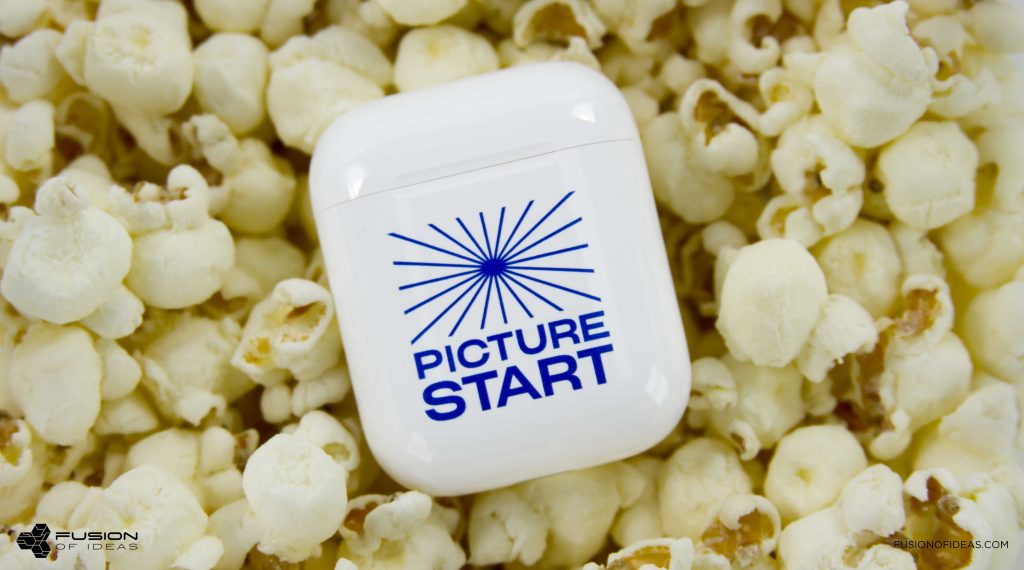 Throughout our many years of customization experience, Fusion of Ideas has worked with clients in almost every industry – healthcare, education, food service, construction, entertainment, fashion – the list goes on. We relish the chance to impress our clients by customizing devices or mobile apps for their employees or customers. But for many of our movie-obsessed team members, it's hard to deny that it's especially thrilling when we get the chance to work with clients who are in the entertainment business.
PICTURESTART is a production company who set out to find a customized tech gift for 200 top clients and company executives. Our design and business teams went to work, collaborating with the PICTURESTART decision makers to create a sleek logo print for Apple AirPods. The PICTURESTART logo is printed on the charging cases for the AirPods, the stems of the AirPods are printed with a clean blue stripe, and to round out the project, we did a custom sleeve to fit over the AirPod box. PICTURESTART is focused on youth-oriented movies and shows, so the colorfully printed AirPods were the perfect way for the new company to announce itself as a fresh and innovative presence in the film industry.
The gifts you give your clients and the technology used by your employees offer unique opportunities for you to make a statement about your brand and the way you do business. By partnering with Fusion of Ideas, PICTURESTART created an impactful brand experience that recipients will recall every time they pull out their AirPods. "We're finding that the AirPods have become a highly preferred gift in the year and a half since they were released," said Russ Taylor, CEO at Fusion of Ideas. "They're compact, useful, and can be customized in several areas. Plus, they have the appeal of being a relatively new Apple product, at a price point lower than an iPad or Apple Watch."
Whatever your tech and design preferences may be, we can help you come up with an unforgettable gift. And if you're on the fence, check out some of the finished projects on our website and Instagram account. We'd love to create your custom gift next!SaveSave
SaveSave
SaveSave
SaveSave