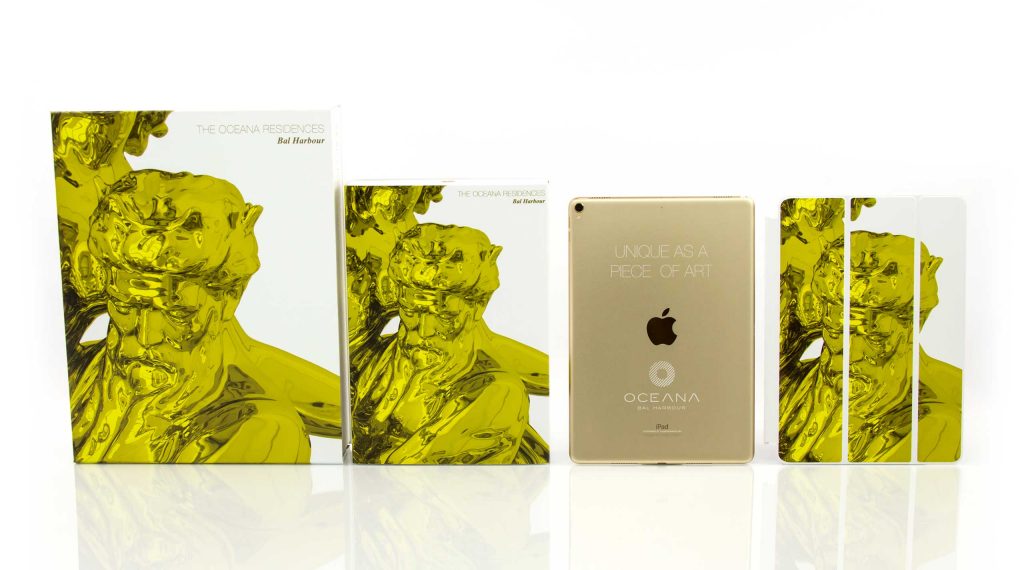 For over 30 years, Consultatio Real Estate has successfully developed innovative high category real estate projects in prime locations.
Passionate about transforming ordinary into extraordinary, Consultatio Real Estate wanted the most high-end, absolute best for their tenants. They wanted to create an unparalleled welcoming experience for new homeowners of both the Oceana Key Biscayne and Bal Harbour properties that reflected the union of art, real estate and technology.
In 2014, Consultatio needed a solution for their welcoming process with their Oceana Key Biscayne project.  They wanted a very unique gift experience for the tenants of Consultatio Real Estate that would capture the attention of future homeowners and provide a suitable resource for displaying the many amenities the property had to offer. As an unprecedented solution to enhance Consultatio's welcoming process, FUSION created fully equipped and branded iPads, including a custom sleeve, branded Smart Cover, and preloaded with custom iOS content, providing each tenant with a little piece of art for their new home. The tenants loved the gift so much that Consultatio knew it needed to be part of their next project.
This year, when the Bal Harbour property neared completion, Consultatio Real Estate connected with FUSION again to discuss the next rollout of customized iPads. It was quickly discovered that among the many exquisite works of art on the Bal Harbour property, one in particular stood out above the rest. Created by iconic Americana artist Jeff Koons, the mirror-polished, stainless steel sculpture "Pluto and Proserpina" stands over 10 feet tall and serves as a centerpiece of the property. Using this masterpiece as an inspiration, FUSION presented a new complete iPad package with a design that surpassed expectations. Consultatio loved the new packaging and exquisite custom gift boxes built specifically for their custom project with high-end materials fit to be displayed on a coffee table. The iPads were customized with pre-loaded content about the property and its amenities. A custom printed Smart Cover paired nicely with the full-color printed iPad. A custom sleeve was also fitted around the iPad box before it was inserted into the gift box. The result was a stunning, one-of-a-kind gift for each tenant to feel welcomed and cherished.
SaveSave